Pictures and Memories
Did you ever wonder how many dishes and service ware are used for a full 7 course meal at The Zimmerman Bury Octagon House?
For all formal Victorian dinners served, the family's best Haviland china comes out of the cupboard and entails, a bread plate, a soup bowl, a salad plate, a fish plate, a dinner plate, a dessert plate, a water glass, two wine glasses, tea cups and saucers, platters, and silverware making a grand total, for 16 settings, of 332 pieces to HAND WASH.
For our New Year's Eve Soirée the number of dishes increased to 364 with extra appetizer plates and extra glasses for the midnight toast. Every attention to detail is thoroughly planned for these dinners and preparation of the table alone takes 15 hours.
December 31st, 2011 New Year's Eve
A lovely evening was had by all. Guests enjoyed appetizers while learning the history of the house, followed by a 7 course Victorian Dinner complete with "Game Pie" and "Mince Meat Tarts." Guests adjourned to the formal parlor to listen to Volunteer, Miss Heather Evert of the Tawney-Musser Homestead, play the violin. Afterward, guests participated in Victorian parlor games, continued fellowship, and a midnight champagne toast. Happy New Year!

March 14, 2009 Victorian Wedding Fashion Show
Feel free to review our presentation of Victorian Wedding fashions from our event in 2009. Click Here.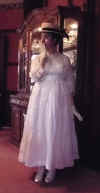 May 8, 2011 Victorian Tea Party & Fashion Show
Our Mother's Day Tea and Fashion Shows are always a favorite for many, feel free to review our fashions from the 2011 event. Click Here

May 14, 2011 Public tour and Maypole Dance
Visitors were able to tour the house and gift shop while watching a Victorian Maypole Dance instructed by Miss Heather Evert of the Tawney-Musser Historic Homestead.